Regular price
$156.00 USD
Regular price
$212.00 USD
Sale price
$156.00 USD
Unit price
per
Sale
Sold out
Einfache Rückgabe
unkompliziert & schnell
Made with Love
Made in Germany
Headwave TĀG 2.0 - the speaker for your motorcycle helmet
– Music and navigation announcements –
We believe that anything fun is even better with the right music! That's why we invented Headwave TĀG.
TĀG is the new standard in helmet speakers.
Shipping & Returns

Shipping via German Post

30 days return guarantee
shares
View full details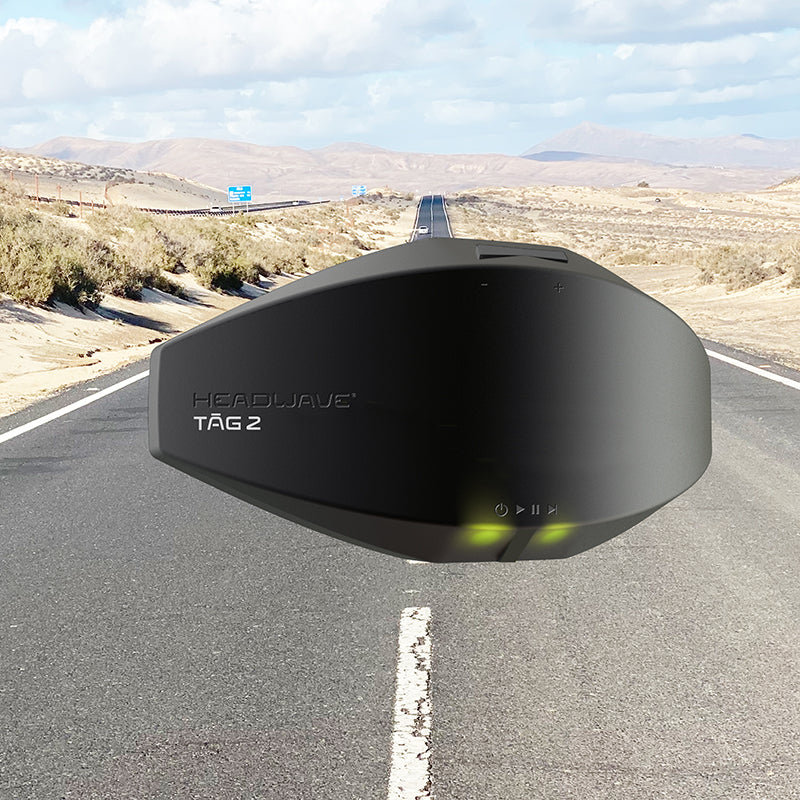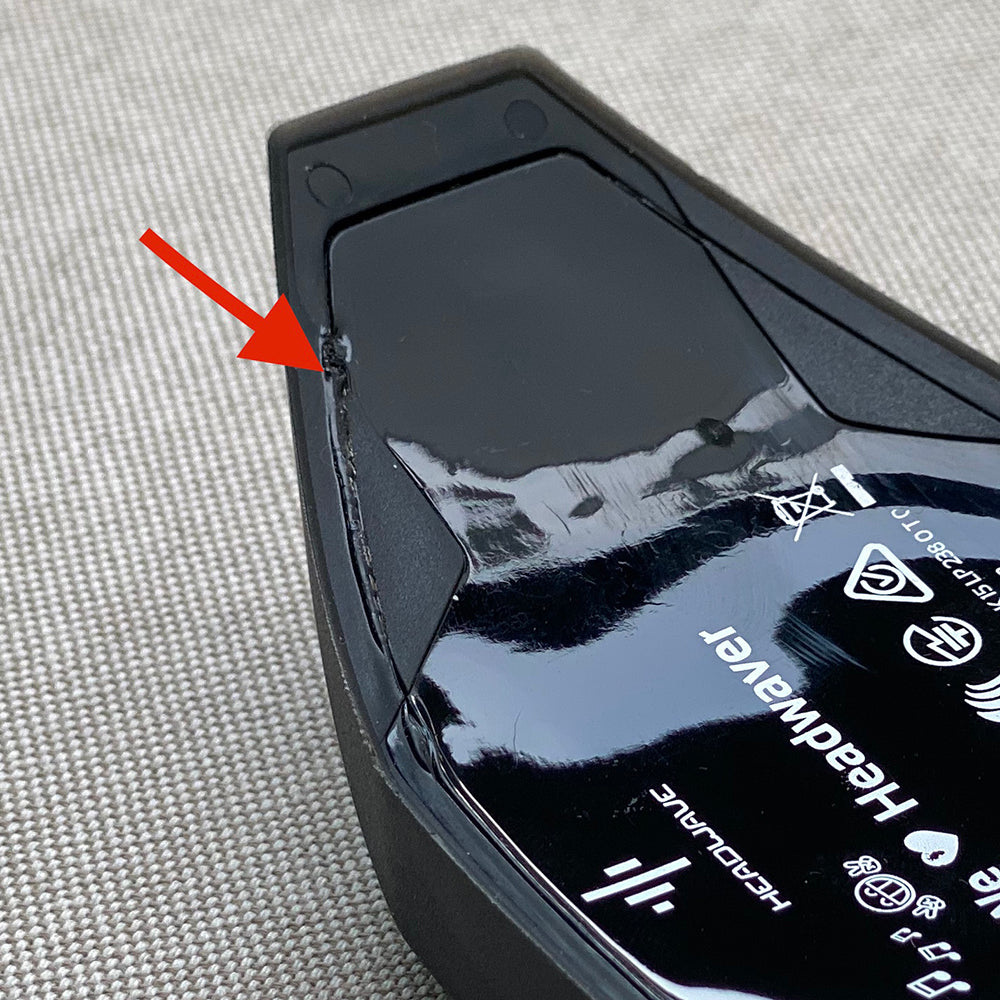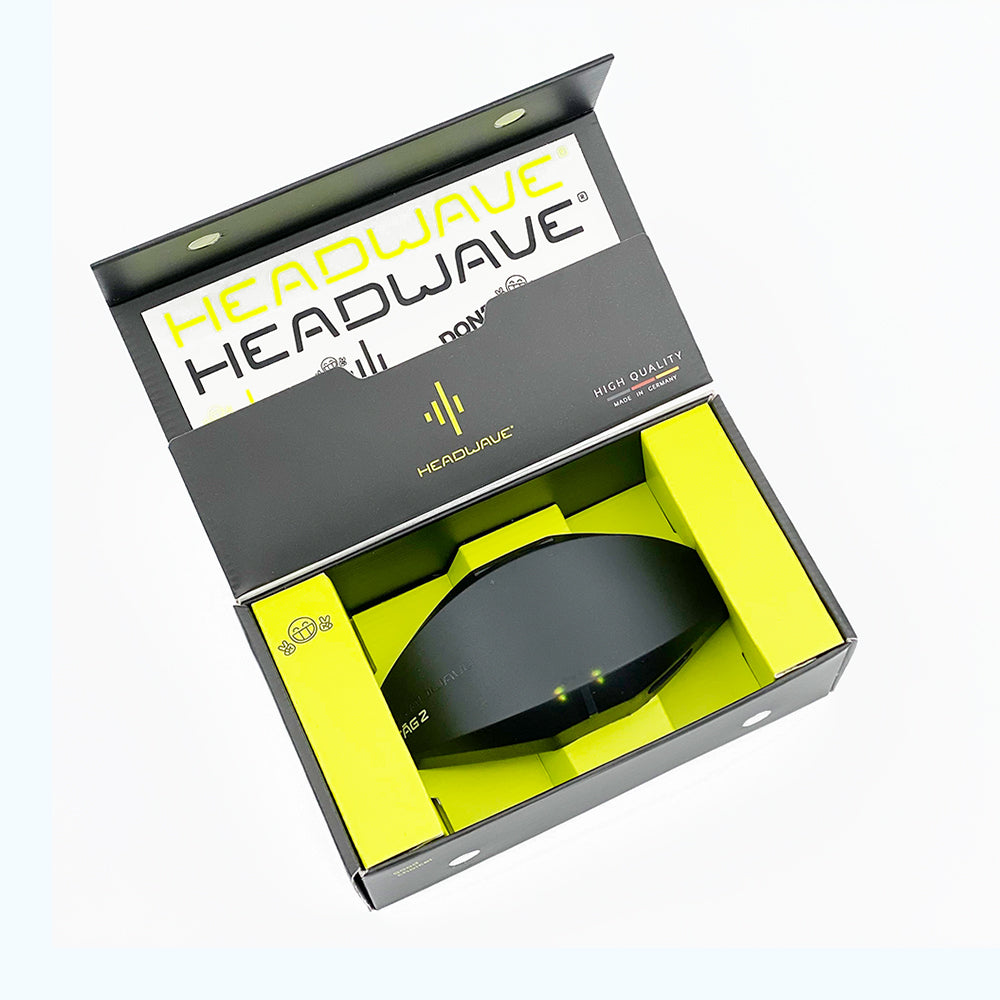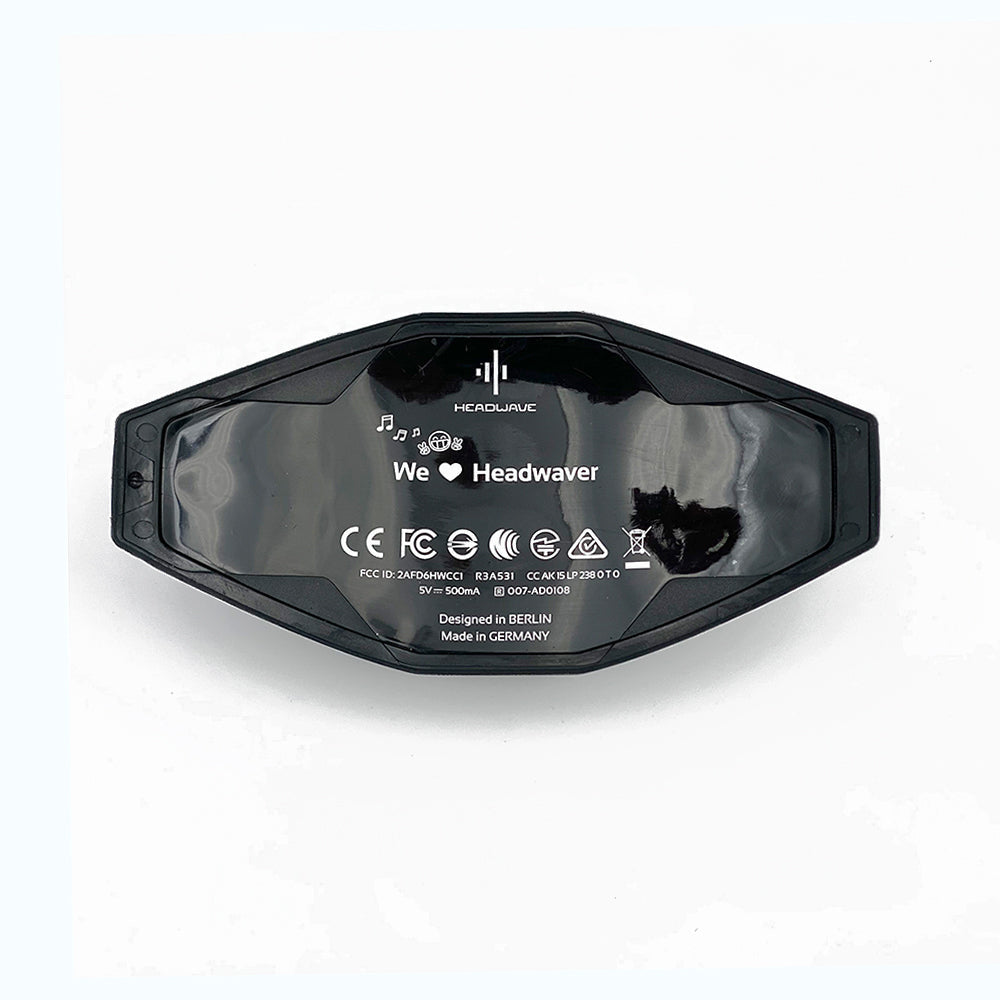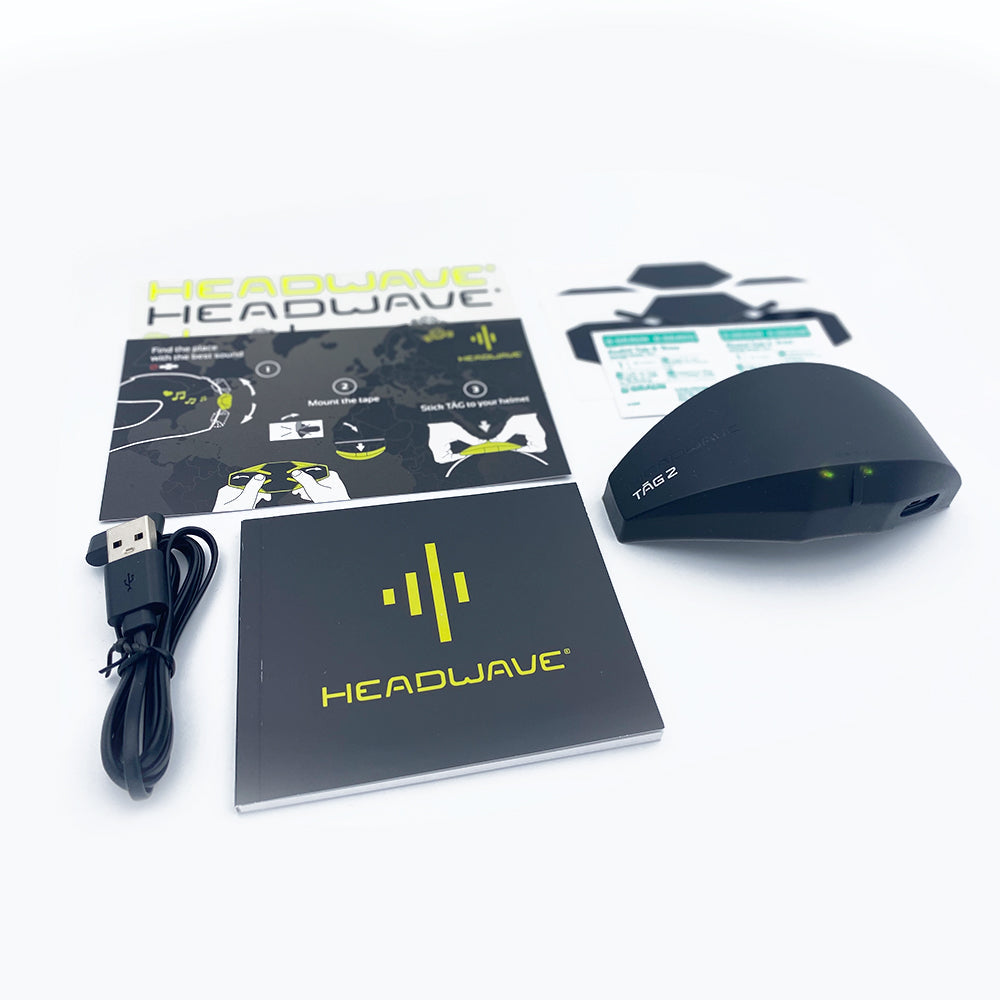 Features
Bluetooth

Connects to everyone
Bluetooth® enabled device

Navigation

Uncomplicated voice playback from mobile phones or navigation devices

Long battery life

More than 12 hours for navigation announcements

5-7 hours with music (depending on the genre of music)

Waterproof

waterproof, dustproof, shockproof

IP67, waterproof due to laser-welded housing

3D sounds

Headwave creates a spatial sound and does not block the ears.

easy installation

Headwave can be installed within 2 minutes.

Clean the helmet, stick on the adhesive pad, remove the protective film, press the TĀG firmly, done.

Bombproof on the helmet

Adhesive pad ACXPlus Tesa® extremely strong adhesive pad, also holds at over 300kmh
– but can be removed without leaving any residue

wireless

Headwave uses the helmet as a speaker. The electronics are on the outside of the helmet, the sound is in the helmet.

Flexible

Headwave is flexible and adapts to different helmet shapes for a perfect sound experience.

Noticeable bass

Headwave generates sound vibrations, which are then transmitted to the helmet shell. The whole helmet vibrates. The result is impressive bass.
Technical Specs
Größe: LxHxB 120mm x 60mm x 20mm
Gewicht: 144g

FAQ
Do I need anything to use Headwave TĀG

You need a helmet, a Bluetooth®-enabled cell phone or "music player" and a desire to play music - that's all. For those who, against all odds, are still (proud?) owners of clamshell phones from the '90s - you're most likely out of luck.
Does Headwave TĀG also fit my helmet? I have a [insert helmet brand, model and size here].

Sure, of course. TĀG is made of TPU (thermoplastic polyurethane) and is flexible (Shore hardness: 70A).

It adapts optimally to the radius of your helmet. You shouldn't fold it in half though - remember what happens with the iPhone.

There are a few helmets that are tapered at the back. This is of course very impractical for TĀG. So that you don't have to mount it on the side, we have developed an adapter that compensates for the tip of the helmet.
Is Headwave TĀG waterproof?

Absolutely. You can take it out into the rain as often and as long as you want.We designed TĀG to IP67 standards, which means it's completely dust and water resistant.You could even use it underwater - but you should use it when leave extensive diving in the South Seas in your pocket.
How long does the battery last

TĀG uses Li-Ion batteries with a total of 580mAh. The battery usually lasts 7-9 hours with music and full volume - so enough for a full day trip.

For those who commute by motorcycle every day, TĀG can probably be used 2-3+ days before needing to be recharged. Run time depends on music genre and volume level. Broadcasting only navigation instructions will last the battery almost infinitely. You can easily charge it via USB.
How big is TAG

TĀG is 123mm x 61mm at its longest points and just over 2cm thick in the middle. TĀG is designed to seamlessly fit your helmet and fits any motorcycle helmet - no matter the size or shape. TAG weighs 150g.
How is TĀG attached to the helmet

Magic! Okay, seriously: We use a high-performance tape from the automotive industry to reliably attach TĀG to the helmet. It is tough and can even withstand speeds of over 300 km/h. If necessary, you can remove it at any time without leaving any residue and without special tools to solve.
Is that not dangerous? It seems so dangerous. Really now: is it dangerous?

It's ONLY dangerous if you try to swallow it - TĀG is 100% indigestible. But why eat it when you can listen to music with it? - Especially since half-digested products are non-returnable.Seriously, it's not a bit dangerous. As with any audio device, TĀG should be used responsibly when listening to music on the road, at a volume where you can hear and react to police sirens and other warning signals. And if there's actually anyone out there who doesn't know: If you listen to music that is too loud for a long time, you can damage your hearing. The ear, nose and throat Doc knows everything else.TĀG is also CE/MIC/ARCM/FCC certified (for EU, Japan, Australia and USA) to ensure user safety and to ensure that our users are alive - and can buy our products for eternity!
May TĀG be used on the road

Short answer: yes.

Longer answer: We recommend obeying all traffic laws in the area you're traveling to. Most jurisdictions say your music can only be loud enough to hear any kind of warning signal. We're not in every jurisdiction with every one country familiar to the world. However, what we found is that there shouldn't be any problems in the EU, US, Japan and Australia.
Where are the speakers actually located in the helmet?

Okay, because it seems unbelievable, let's say it again: The entire helmet becomes your very own concert hall - your very own Concert Capsule™! Everything is outside, so your helmet still fits perfectly (or whatever it is currently sitting on your head...).
Can I use my GPS with TĀG

Yes, the built-in GPS in your phone can easily transmit the voice instructions to TĀG. TĀG is also compatible with all major navigation devices.
To change the volume of the voice instructions, simply go to your sat nav's audio settings.

When streaming music from my phone through the Garmin, the audio quality seems to be lower
Unfortunately, Garmin uses a non-music Bluetooth profile to stream the music on TĀG. Please contact Garmin Support for this.

Can I also stream music from my BMW Navigator to TĀG
Unfortunately, the devices up to and including Navigator V could not stream music on TĀG - but the voice prompts and other notifications without any problems! With the Navigator VI they have finally fixed this problem.
How can I make TĀG even louder?

If you look into the music settings in your phone, you can find the items "Maximum volume", "Adjust volume" and "EQ". All three points need to be off for TĀG to give everything he can.
Ich habe ein Samsung Galaxy und irgendwie ist mein TĀG einfach nicht laut genug

Wenn du ein Samsung Galaxy hast, solltest du für das optimale Sounderlebnis in den Einstellungen Dolby Atmos aktivieren.

Tippe dazu auf Einstellungen und öffne Töne und Vibration.

Tippe auf Tonqualität und Effekte.

Aktiviere dort Dolby Atmos.

Hinweis: bei einigen Geräten ist die Funktion erst dann verfügbar, wenn dein Smartphone mit Kopfhörern oder externen Lautsprechern verbunden ist
Do I need to remove the logos from the helmet manufacturer before sticking TĀG on

Yes, all stickers must be removed in the area where you stick TĀG. Stickers with reflective material in particular block the transmission of vibrations to an amazing extent.
Does the position of TĀG on the helmet matter?

Yes, for the best sound experience, position TĀG in the center back. If TĀG sticks very high, the high notes carry more and you have less bass. If you stick it all the way down, you have fewer high tones but an almost extreme bass. If you stuck it somewhere on the side of the helmet, the sound would be very unbalanced.
What is the easiest way to solve TĀG?

The easiest way to do this is with an old credit card and good old arm strength.

Just go under the rim of TĀG with the credit card and slowly release it.
TĀG forms a particularly strong bond with some helmets. Please do not use any sharp objects to loosen TĀG. This could damage your helmet. The magic bullet at this point is a hair dryer. TĀG dissolves much more easily with heat.
Can you get a headache from the vibrations?

You really shouldn't. No headwaver has ever complained about a headache. So you could be the first... (which we hope not of course)
The bass is really heavy. What can I do

If the bass vibrations are too much for you, just go to your phone's music settings and set the equalizer to "less bass".
Can the people around me hear my music too?

As soon as the engine is running, you can no longer really hear the music around you. The volume outside the helmet is much quieter than directly in the helmet. However, if you stop at the gas station, you should probably pause Helene Fischer before you stop engine
How is the sound quality

We should be modest at this point, we know, but we can't, because: It's absolutely unique!The sound quality with TĀG is comparable to the sound quality in your car or in your home cinema.Our goal is to convey the feeling of a private concert in a mobile environment.
Can I also make calls with TĀG

TĀG was made for listening to music and optimized for playing music. There is no built-in microphone to make calls.

However, you can buy the Headwave microphone. Then you can use Headwave for phone calls and for the voice assistant.
How is TĀG operated

Very easily via your mobile phone or any other Bluetooth®-enabled device.

However, you can also get one of our Bluetooth remote controls for your handlebars.
Okay, you got me, but I gotta test this thing before I get my hands on it.

Then just drop by our headquarters in Berlin. You can also visit us in different cities and at various events.

TĀG is now also in the range at Louis and Polo and can be tried out in every shop.


If you can hardly wait, you are always welcome in our office - as long as we are there and are not doing a few laps with our bikes and the TĀG...

We also always offer a 30-day return policy. So you can test the device on your own helmet for 30 days and if you don't become friends, simply send it back. However, the return costs are on you.
Choosing a selection results in a full page refresh.
Opens in a new window.